Virtual reality technology can take you to a different world. It's like dreaming with your eyes open. It provides a completely immersive experience of the virtual world. It can provide life-…. training and experience even if it's inside a display. With VR headsets, you can turn your iPhone experience more immersive. In this article, we will talk about which virtual reality headsets works best with iPhones.
Best VR Headsets For iPhone 14 And 13- Summary
Why you should consider getting a VR Headset
Know the advantages of a VR Headset and why you should consider getting a VR Headset for your iPhone.
Best VR headsets for iPhone 14 And 13
A list of the best VR headsets that support the iPhone will be available in the market in 2023.
Why You Should Consider Getting A VR Headset
Virtual Reality headsets for your iPhone can convert your phone into a VR gaming and multimedia machine. You can watch content and media on your iPhone while feeling like you are in a theatre. If you have never used a VR headset, getting one that supports your iPhone as a beginner is a good idea. You can upgrade to other VR headsets later if you like the experience. Now that you know the pros of getting a VR headset, let us move on to the best VR Headsets for iPhones.
Best VR Headsets For iPhone 14 And 13
Here are some of the best VR headsets that you can buy for your iPhone
Merge VR Headset
Zeiss VR One Plus
Google Cardboard – Google VR
B Next VR Headset
Destek V5 VR Headset
Feebz VR Headset
Pansonite 3D VR Glasses
VR Empire Cell Phone Virtual Reality Headsets
Atlasonix VR headset for iPhone
GEZICHTA 3D VR Glasses
Newnaivete VR Headsets For kids
1. Merge VR Headset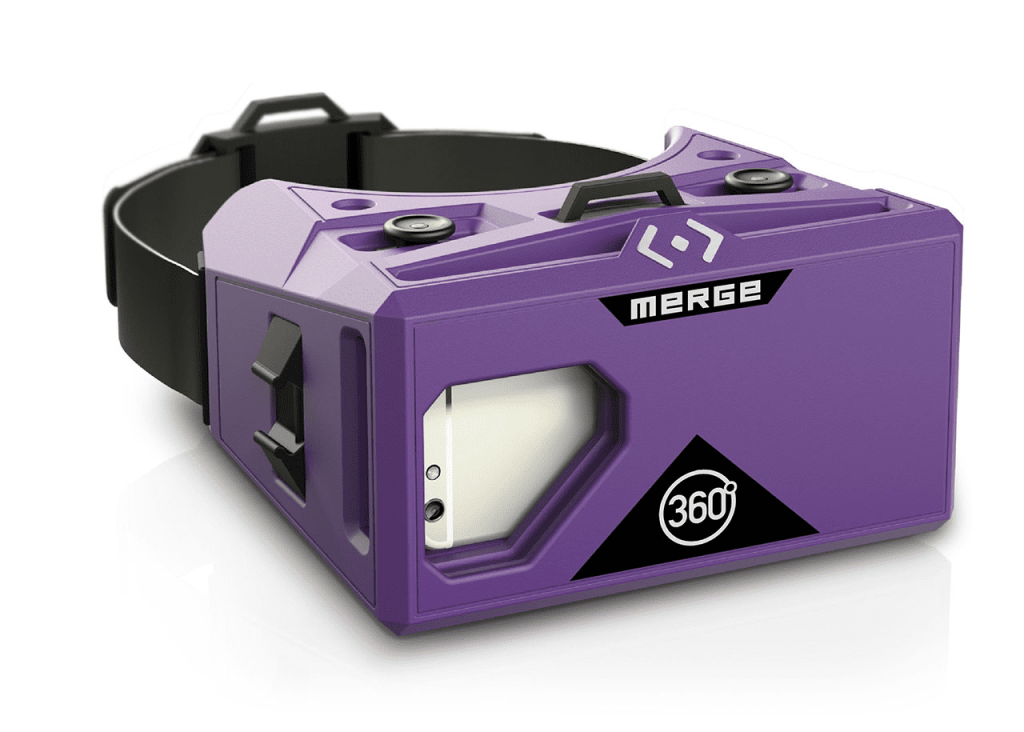 Merge Edu is an Augmented Reality and Virtual Reality company. They make state-of-the-art mobile VR glasses. Their goal is to make AR and VR technology more accessible, mainly when it's used for education. Hence, this is an excellent choice for you if you are a student and you want to make your learning journey more enjoyable.
Pros:
Good build quality
Comfortable
Supports AR
Supports older generations of iPhones
Adjustable lens
Cons:
It doesn't come with a remote
It will not be comfortable if you want to use it with eyewear/glasses.
2. Zeiss VR One Plus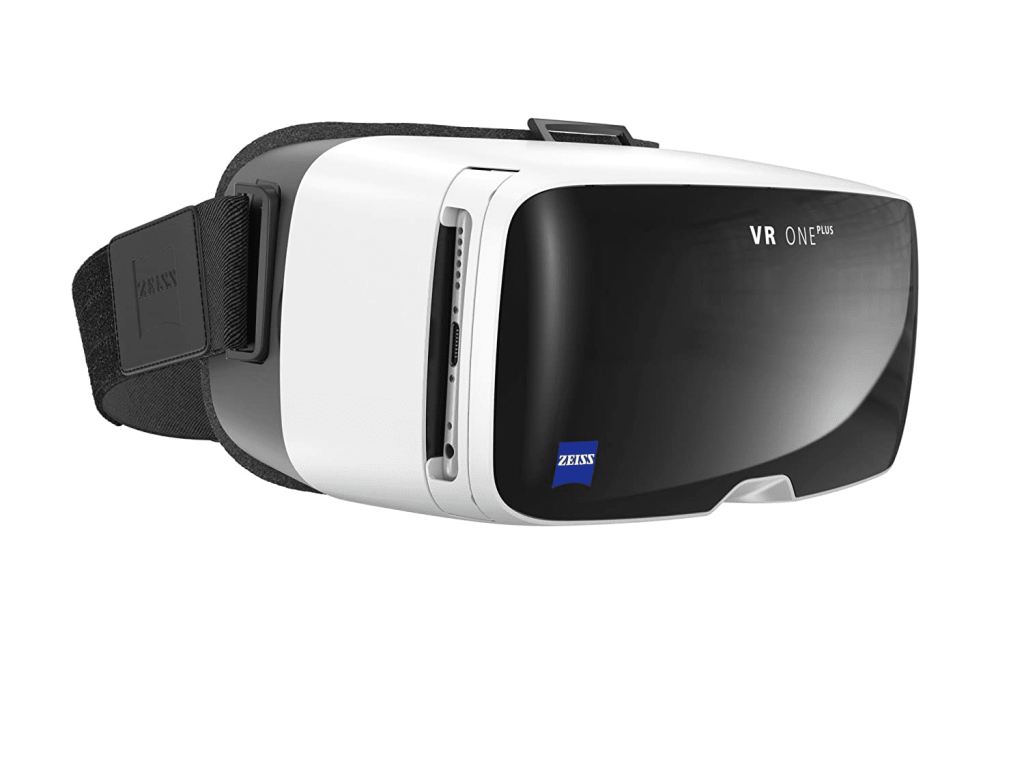 The Zeiss VR One Plus has excellent lenses. The Zeiss company indeed has experience with lens manufacturing. They make industry-leading microscopes and microfiber cloths used for cleaning lenses. They have expanded their reach with VR technology and even believe in VR training, making learning more interactive, enjoyable, and less time-consuming. If you are looking for VR headsets for your iPhone with the best lens, you don't have to look anymore. The Zeiss VR One Plus has the best lens out of all the products on this list.
Pros:
Excellent Hiigh Performance Lens
Multiple phones support
Good Build Quality
Cons
The lens is not adjustable; they are fixed.
Can be heavier
3. Google Cardboard – Google VR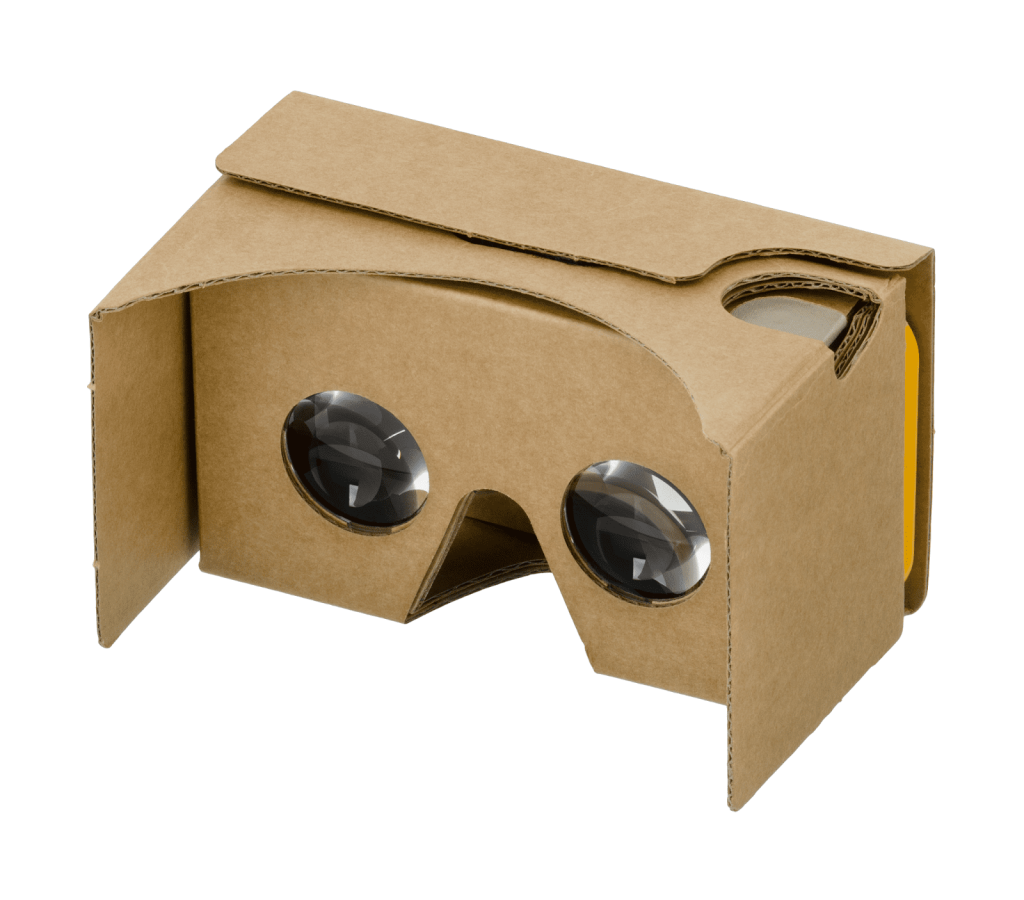 The Google Cardboard is google's own affordable VR headset for mobile phones. The good thing is that Google Cardboard even supports iOS devices. The google cardboard app is available on the app store, and you can use the VR headset. Apart from the official google cardboard, many variants of Cardboard VR headsets are available that work the same. This product was designed to be low-cost, so VR is more accessible.
Pros
The cardboard build is strong
Good VR experience for beginners
App support with a lot of content
Works well with games, photos, and videos
Cons
The lens can magnify the pixels in devices with a low pixel density
It can sometimes reduce picture quality
4. B Next VR Headset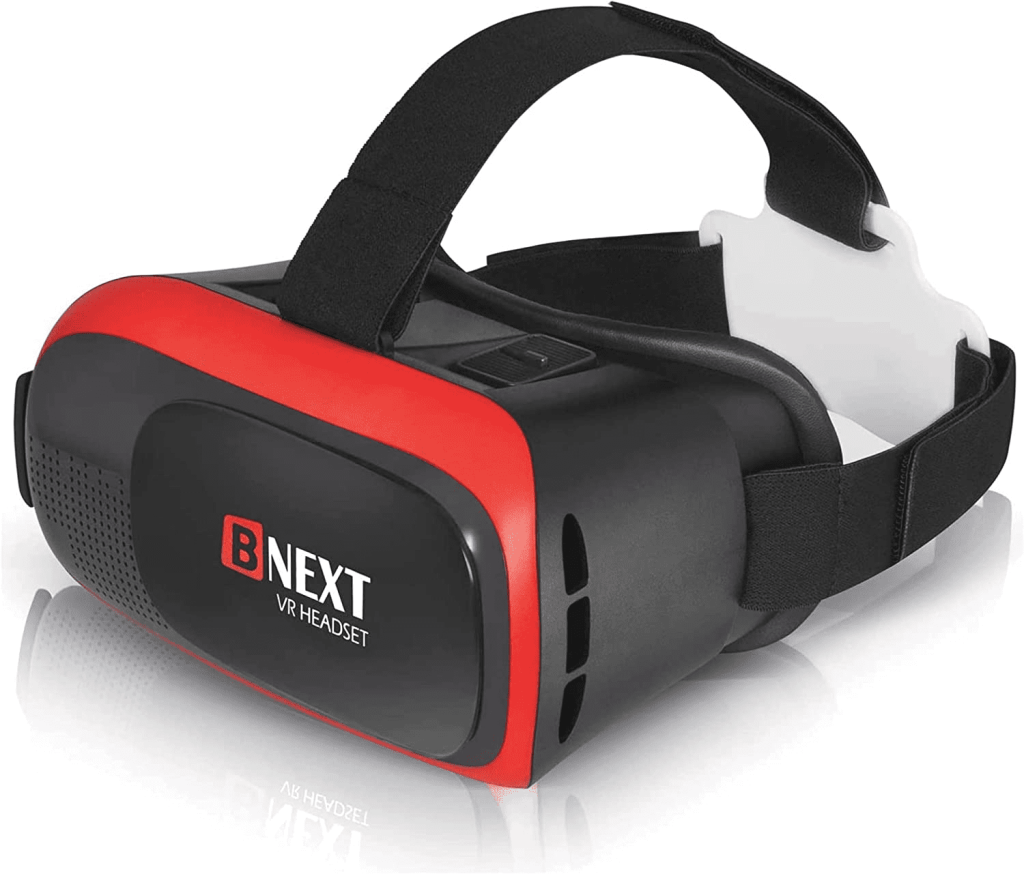 This is a VR headset made by a company called B next 3D. They are a company that specializes in 3D glasses and 3D technology. The B Next VR headset comes in 3 colours, blue, red, and grey. This VR headset is best suited for gaming and watching movies. It's compatible with many devices, including older generations of iPhones.
Pros
Eyesight protection system
Adjustable lens
Supports multiple phones
Good image resolution
Supports remote
Variety of colors available
Cons
Nose foams can be uncomfortable
Remote can be non-responsive sometimes
5. Destek V5 VR Headset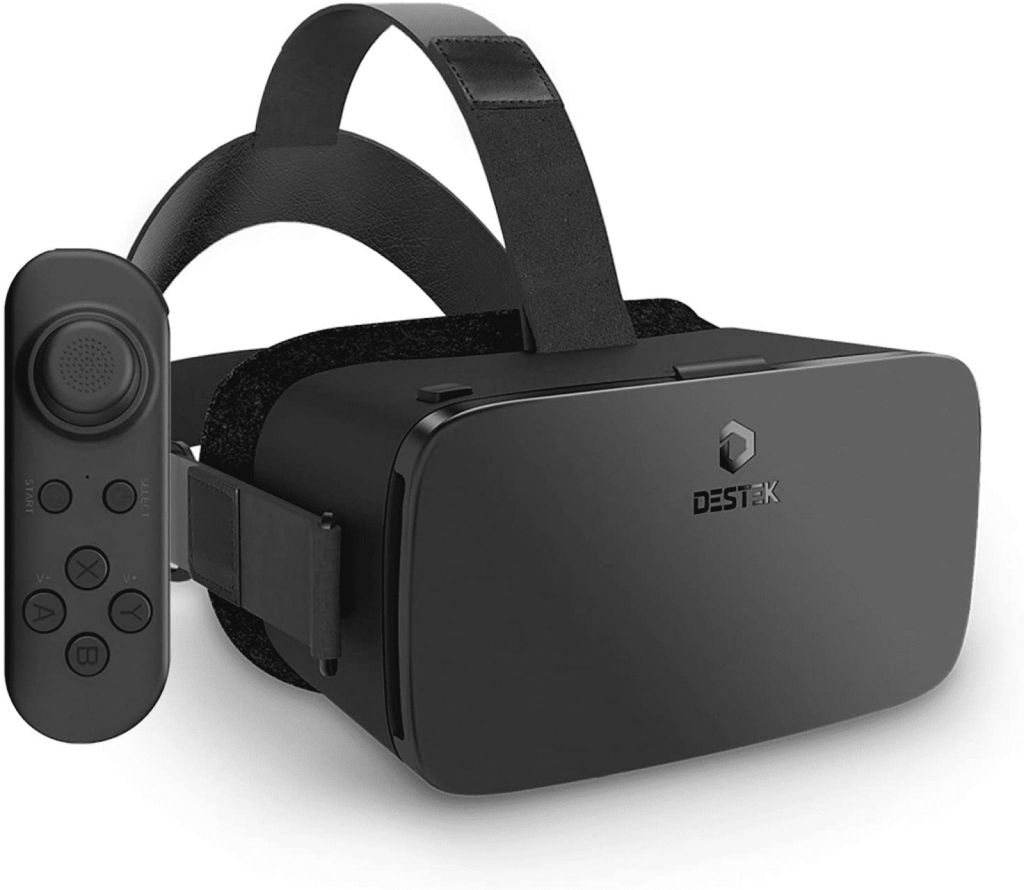 Destek is a company that makes accessories for VR headsets like Meta Quest. They make specialize in remotes and cases for VR headsets. They also make VR headsets that are compatible with smartphones. The Destek V5 VR headset is compatible with a wide range of smartphones of different sizes. This VR headset comes in 5 colors, black, white, blue, cyan, and pink. It also comes with a remote, which you can use for multimedia and gaming while your iPhone is inside the headset.
Pros
Good quality remote
Excellent build quality
Nose pads for comfort
Better field of view
It can be used with glasses.
Cons
Remote might not be compatible with some games
It does not support large phones like "Max" iPhones.
6. Feebz VR Headset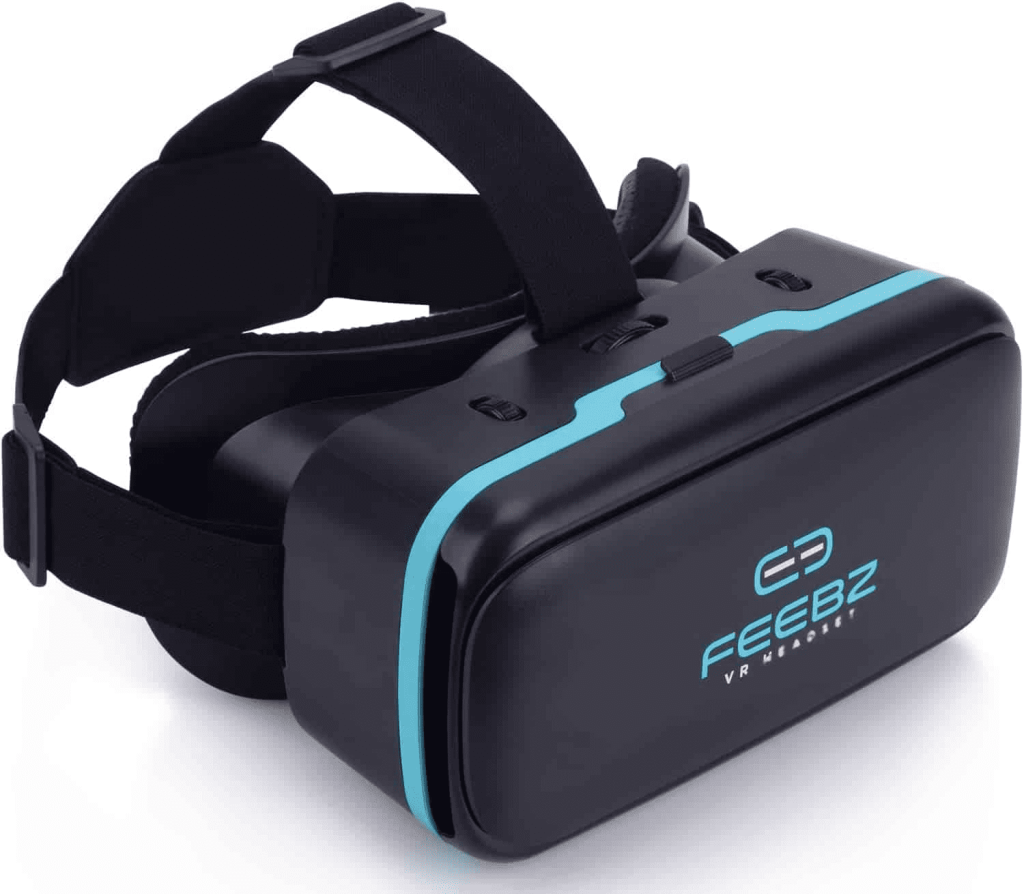 The Feebz VR headset is a premium quality headset at a budget price. It comes with a user guide with a list of apps, games, etc. that you can use with this headset. A Bluetooth remote is also included along with the headset for using your phone inside the headset. The front cap of the headset can be removed to insert phones of various sizes. It also has a build action button on the top of the headset. It comes in 4 colors, blue, green, red, and silver. 
Pros
Adjustable straps
Detailed user guide
Budget-friendly
Supports wide sizes of phones
Cons
Downloads from the user guide are not available sometimes.
The buttons on the headset wear out over time.
7. Pansonite 3D VR Glasses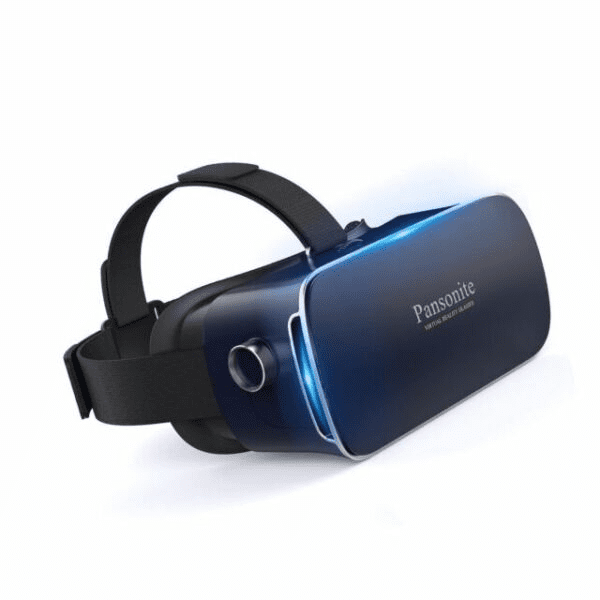 The 3D VR Glasses by Pansonite is a VR headset for smartphones. It has an ergonomic strap design. It works very well even when you have your glasses on. It's very lightweight and won't bother you even after a long term of use. It also has an eye care lens for eye protection. It has an excellent air-flow cooling system for your smartphone for playing games.
Pros
Lightweight design
Adjustable lens
Good build quality, better materials
Support a wide range of smartphones
It has a headphone jack
Cons
Difficult to adjust the lens
Light enters the VR headset in a well-lit room
8. VR Empire Cell Phone Virtual Reality Headsets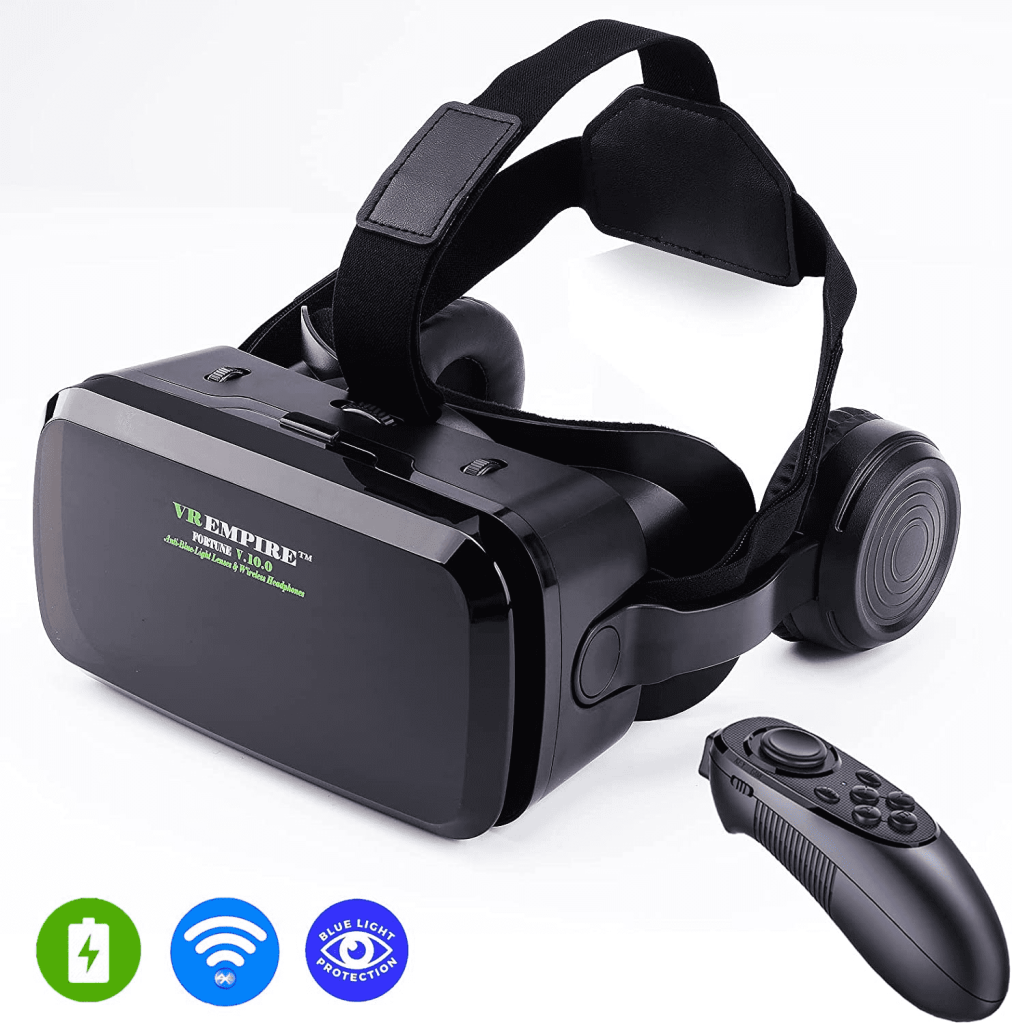 These virtual reality headsets for cell phones are from a small VR Empire business. It comes with a headphone built in as well as a remote. It also has eye care for protection from blue light. It has a wide 120° field of view, offering an even better immersive experience.
Pros
Wide FOV
Built-in Bluetooth headphones
Adjustable lens
Cons
Slightly heavy
Less battery life
9. Atlasonix VR headset for iPhone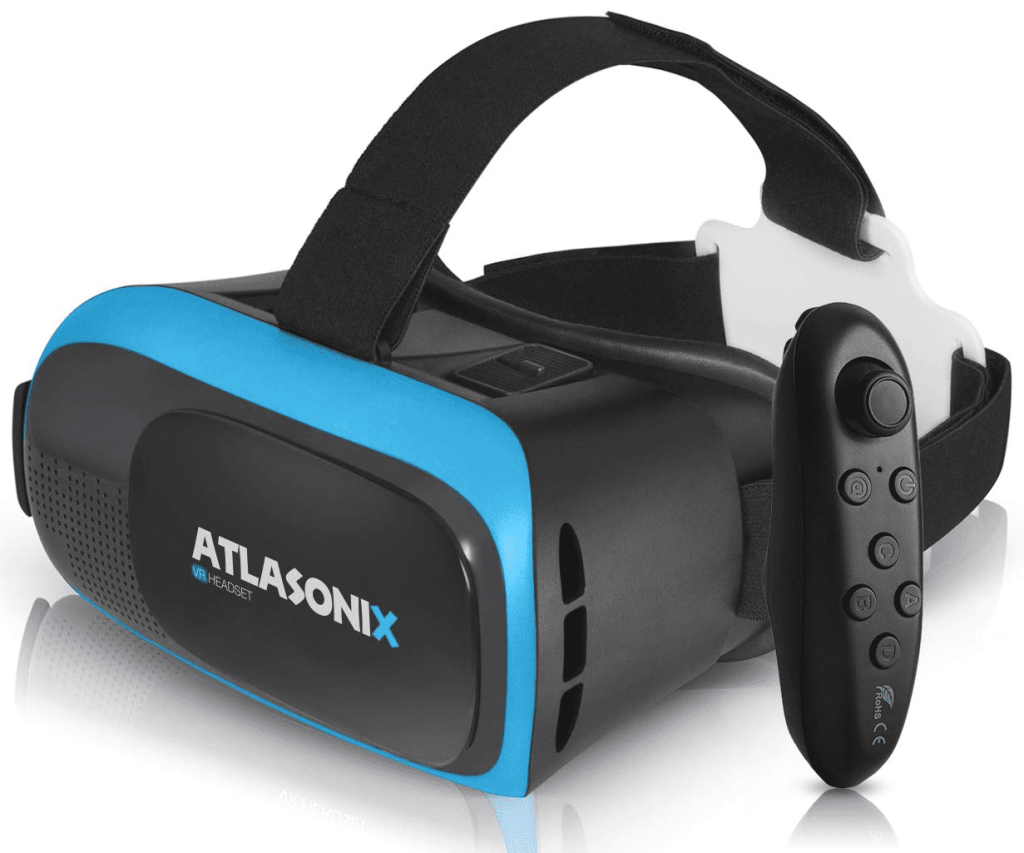 Ultrasonic is a toy store that makes high-tech toys for kids, such as drones, RC cars, etc. They also make a VR headset excellent for gaming and multimedia, such as 3D movies for kids. These headsets are compatible with iPhones and make an excellent Christmas present. They come in 3 different colors, which are black, blue, and red.
Pros
Functional action button on the headset
Bluetooth pairing support
Responsive buttons on the remote
Comfortable design
Cons
The lens goes out of focus sometimes.
The joystick on the remote can be unreliable for games.
10. GEZICHTA 3D VR Glasses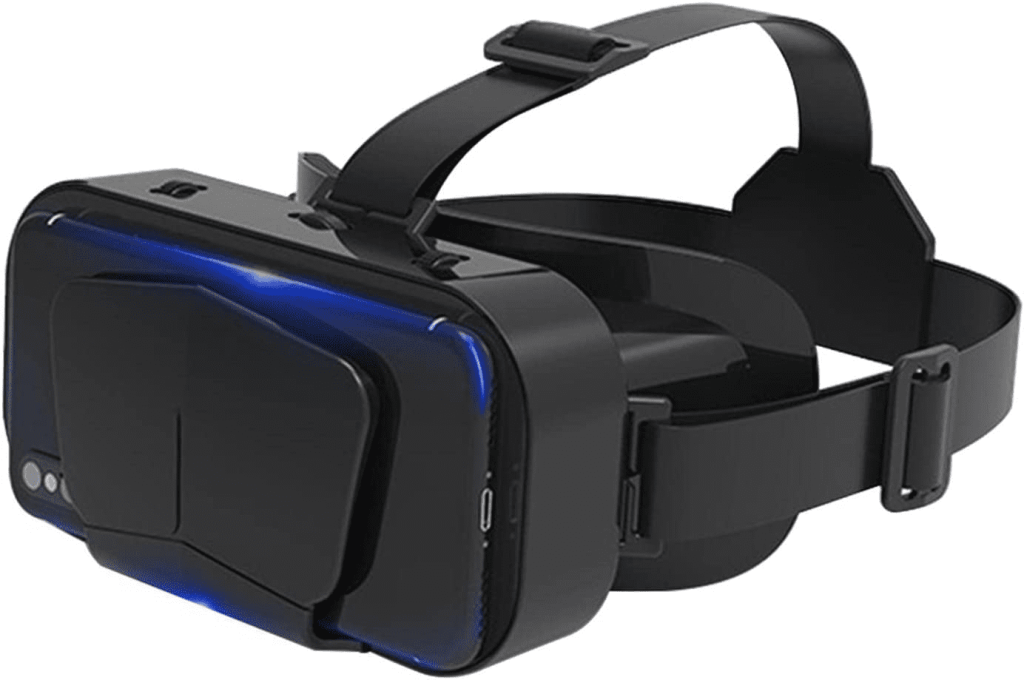 GEZICHTA has a wide range of products, such as gaming headphones, VR glasses, etc. These VR headsets have an excellent iPhone mounting system. It also comes at a very reasonable price. It supports a wide variety of smartphones. The lens has an anti-blue light feature that protects your eyes from the blue light your phone screen emits.
Pros
Reasonable price
Wide range of support
Anti-blue light filter
Clear image
Cons
Less comfortable
Some games/media players don't support the remote
11. Newnaivete VR Headsets For kids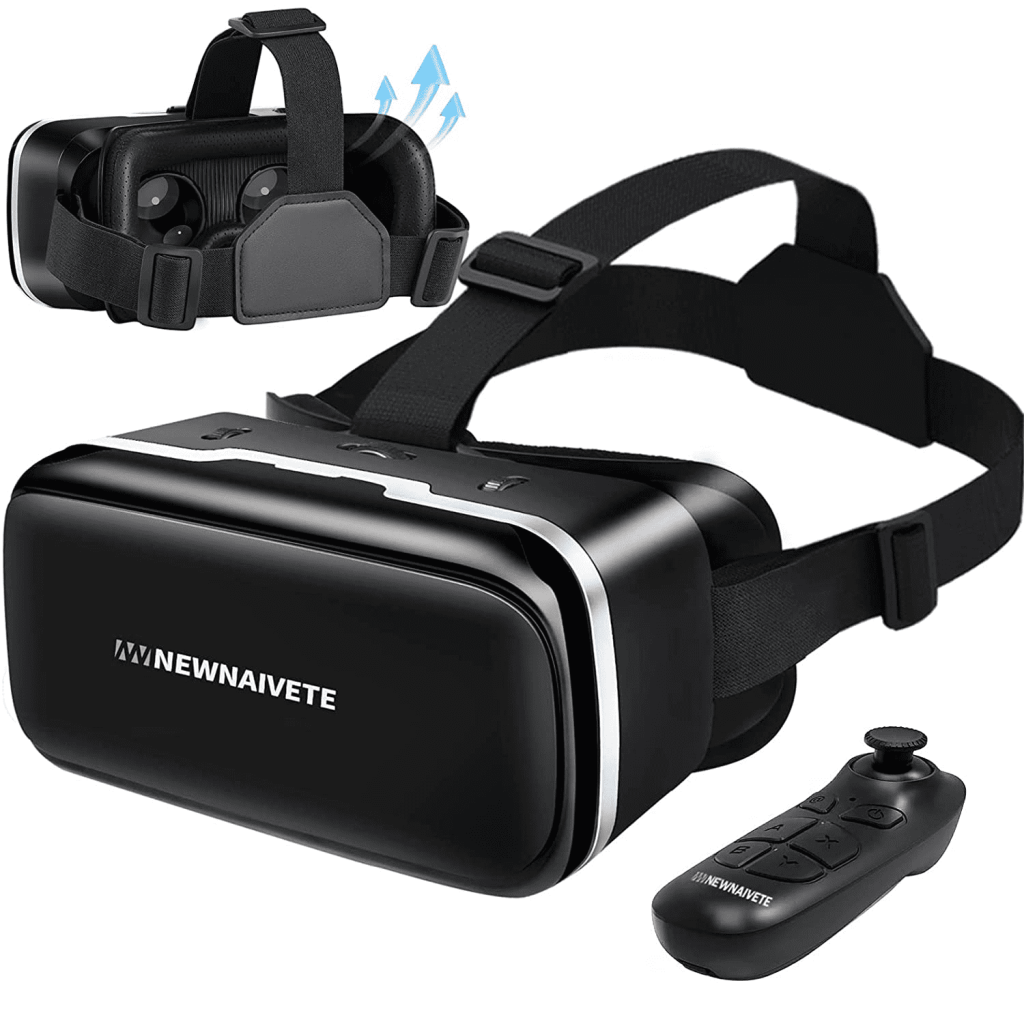 Newnaivete is similar to Altasonix VR headsets, which I talked about earlier. They make various products for kids, such as doodle boards, LCD writing tablets, etc. These headsets support many smartphones, including all iPhones, and make an excellent gift for kids. There are multiple variants of these headsets available according to your phone size.
Pros
Multiple sizes available for different iPhones
Quality visual experience
Lightweight design
Works with glasses
Cons
Less field of view
Some apps in the user manual are no longer available in the app store.
Related Topics
Conclusion
Hopefully, we have helped you pick a VR headset for your iPhone 14 And 13. If you are still confused about which headset to pick, it depends on what you will use it for. For example, if you are a student and want a good headset for educational purposes, I suggest going for the Merge VR headset or the VR One Plus by Zeiss. If you want a VR headset for gaming and multimedia, I suggest going for the Destek V5 VR headset or Feebz VR headset, as these come with remotes and action buttons.
FAQs
Can you use VR headsets with iPhone?
Yes, a wide variety of headsets are available that support the iPhone. Follow section 2 in this video to know which is best for you.
Can I watch Netflix in VR on my iPhone?
Yes, there are VR apps available on the app store which allow you to watch content in VR.
Can VR be used with any phone?
Yes, all of the VR headsets in this list support iOS and Android.