You have probably heard about the new WhatsApp update by now. The new WhatsApp update is big as it lets you connect to proxy servers for WhatsApp. It essentially means that you can now connect to WhatsApp even when the WhatsApp servers are down or even when there is no internet in your area. Now that you know the benefits of WhatsApp proxy, let's get started with the guide on how to use proxy servers for WhatsApp.
How To Use WhatsApp Proxy On iPhone – Summary
What is a proxy server for WhatsApp?
Why and when to use a proxy server for WhatsApp?
How to set up a WhatsApp proxy on iPhone?
1. What Is A Proxy Server For WhatsApp?
A proxy server is a server that acts as an intermediary between your computer and the sender or receiver of information. For example, if you are sending a message to your friend with a WhatsApp proxy, the message you send is going to a proxy server and then to your friend's phone. Similarly, if your friend is sending you a message, it will come through a proxy severe.
2. Why And When To Use A Proxy Server?
WhatsApp only allows you to use the proxy server if you are not able to connect to WhatsApp via the internet, if WhatsApp servers are down, f the internet in your area is down, or if your area does not have the internet. In such cases, you can follow the steps below to connect to WhatsApp with the help of a proxy server.
3. How To Set Up WhatsApp Proxy On iPhone
Here is a step-by-step guide on how to set up a WhatsApp proxy on iPhone
Step 1: Select the WhatsApp app on your iPhone.
Step 2: Select the settings tab. It's on the bottom right-hand side.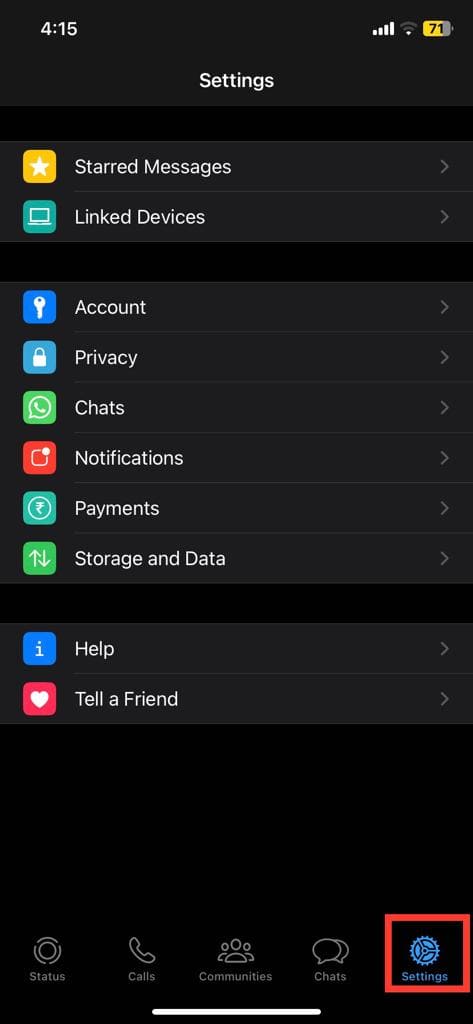 Step 3: Select the storage and data option.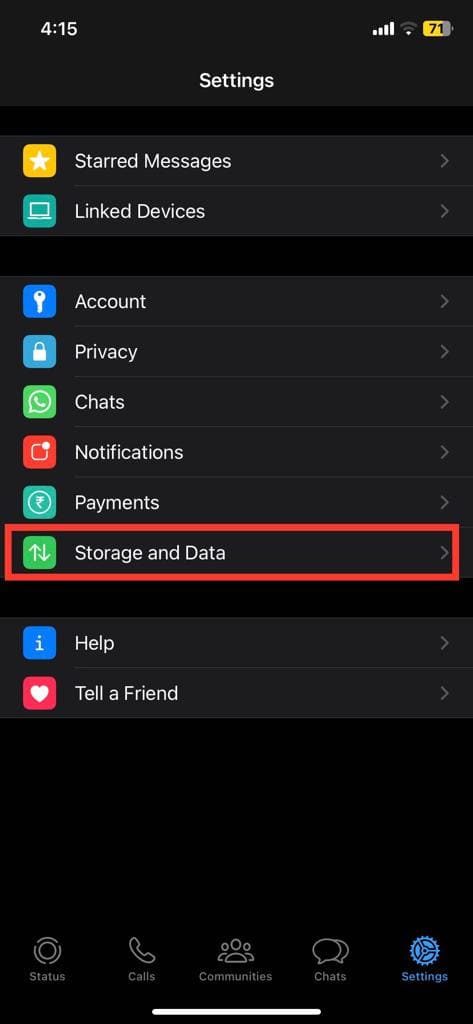 Step 4: Select proxy.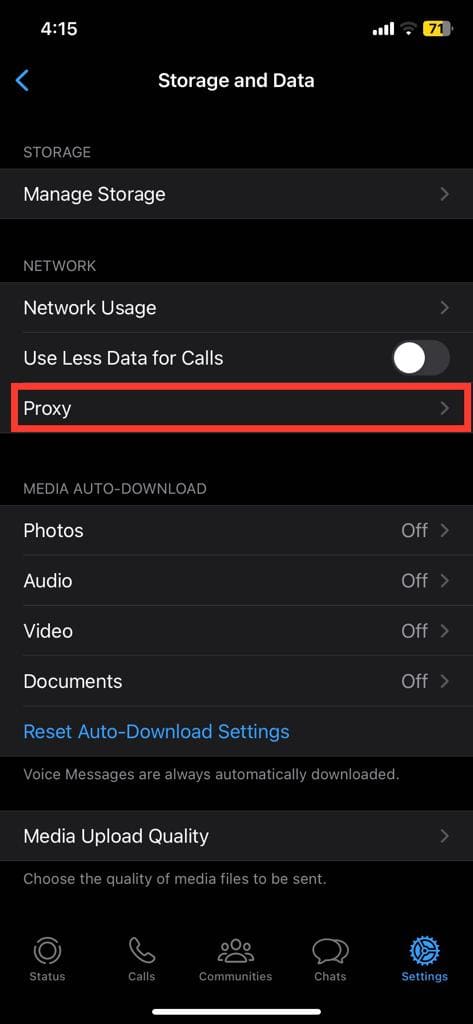 Step 5: Turn the use proxy switch on.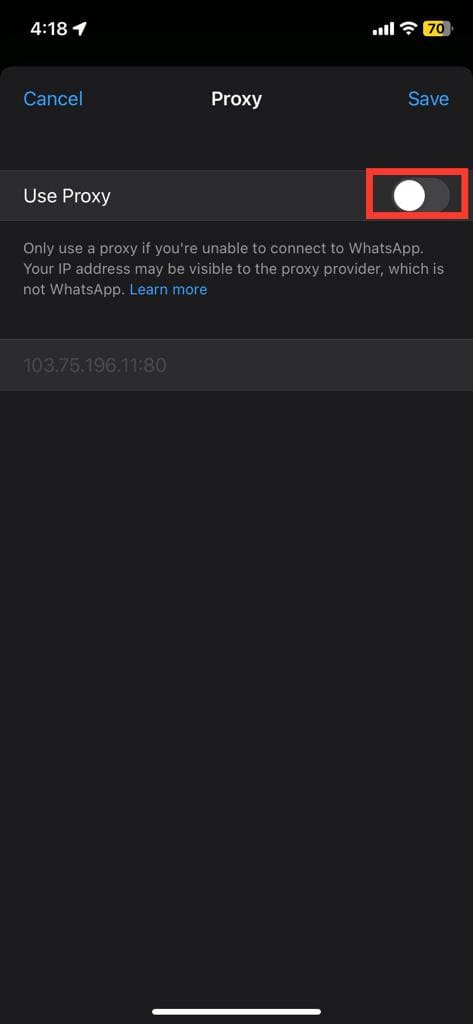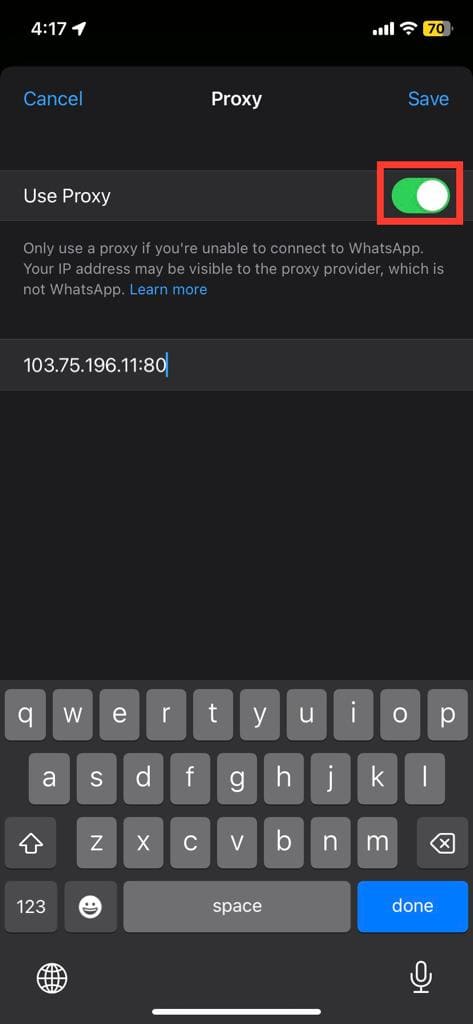 Step 6: Enter the proxy address and port.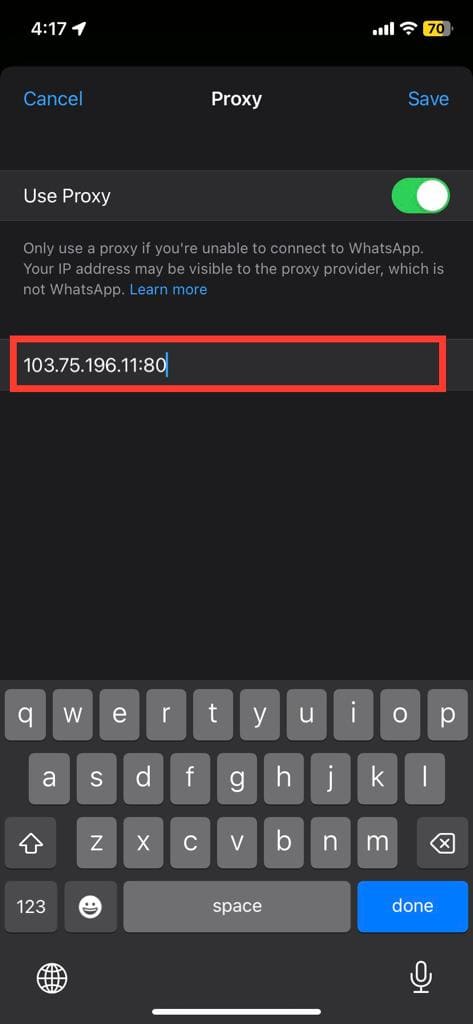 Note: In order to use the WhatsApp proxy, you can only use proxy addresses with these ports: 80, 433, and 5222.
Step 7: Select save on the top right-hand side.
Your WhatsApp proxy will be set.
Related Reads
Conclusion
We hope that this article has helped you with connecting to WhatsApp via a proxy server. A proxy server acts as a middleman between you and the receiver or sender of the information. However, you don't need to be worried about anyone reading your messages as they are encrypted. You can only connect to proxy servers for WhatsApp if there are issues with the internet or if WhatsApp servers are down. You can connect to WhatsApp proxy by going to the storage settings in WhatsApp and then going to proxy settings.
FAQs
Why can't I find proxy settings in WhatsApp?
The proxy settings are in the latest version of WhatsApp only. Make sure that you update your WhatsApp to the latest version. 
What is my proxy address?
A proxy address is an address to another computer which is an intermediary between your phone and the sender's/receiver's phone. You can search for a proxy server on a search engine that you trust. 
Is it safe to use a proxy server?
WhatsApp says that the security remains unaffected as you connect to a proxy server. The encryption is the same as when you use WhatsApp with the internet.